News & Events
News, events and more!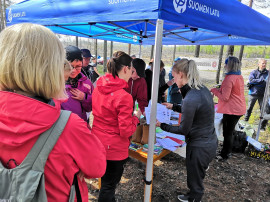 Walking tours in Finland get a great start!
13.5.2019
The first European Walking Tour in Finland took place at Lykynlampi, Joensuu on Saturday 22nd of May, on a 4 kilometer trail. The event received very positive feedback from the participants.
The first walking event in Finland was organised in co-operation with sports clubs Joensuun Latu and Kalevan Rasti, as a part of National Camping Tour event. Jussi Silvennoinen from Kalevan Rasti had prepared a 4 kilometer path and led two groups to see the trails and hear about the history of Lykynlampi region.
Based on the feedback, the start was very successfull! See you in the next Walking Tour event - 2 kilometer Walking Test on Monday May 27th!