News & Events
News, events and more!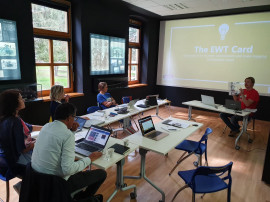 The second EWT project partner meeting in Čakovec 2.10.2019
3.10.2019
The European Walking Tour project partners gathered in Čakovec, Croatia to exchange experiences and plan the next steps of our project.
In the meeting, representatives from each partner organisation introduced the status of the Walking events, Videos and Meal plans created for the project. Ana Da Silva, representing Municipality of Lousada - the coordinator of the project - summarised the oerall situation, which seemed excellent. All of the partners have already organised 5 to 8 Walking events, with the total number of participants reaching about one thousand people.
Project's Facebook - page and publications have been found especially by the Portuguese audience, now challenging the other countries to reach their numbers.
New innovations regarding the project were discussed, and some not originally foreseen are already being tested, so there's plenty more to come over the next year!